NEWS
2021 Specialty Show - POSTPONED
We regeret to advise that due to the current COVID lockdown and restrictions in Greater Sydney the Specialty Show scheduled for Saturday 17 July 2021 has had to be postponed. We hope to advise in the near future if the show will be rescheduled for later in 2021 or cancelled.
2021 Specialty Show - 17 July 2021
The 2021 BMDC NSW Specialty Championship Show will be held on Saturday 17 July 2021, commencing at 10.00am. Our show is being run in conjuction with the North of the Harbour All Breeds Kennel Club weekend of All Breeds Championship shows at the Bill Spilstead Complex for Canine Affairs, 44 Luddenham Road, Orchard Hills NSW .
Our Judge this year is Mrs Lindsay Thomson from Vevey Bernese Mountain Dogs in South Australia
Full Details and show information will be available soon
2020 Specialty Show - Cancelled
We wish to advise that the BMDC NSW Specialty Championship Show, scheduled for Mid July 2020, has been cancelled.
We were holding out hope that the show may have been able to be run and social distancing and travel restrictions may have eased.

Our host club, The North of the Harbour All Breeds Kennel Club, announced that they were cancelling their weekend of International shows a couple of weeks ago, and with domesic travel restricted and International travel in doubt for the foreseeable future, we have made this decision to cancel.
We now look forward to a bigger and better event in 2021.
2019 Show
Our 2019 Specialty Show is only 2 weeks away! Saturday 20 July
Entries are still open at http://dogs.ozentries.com.au/entry/entry2be.php?eventid=2be
The show starts at 10.00am and is free for spectators. Come along and watch the Berners in the ring.
The show will start with a 'veteran parade' to recgonise all our oldies and there will be a carting display in the lunch break.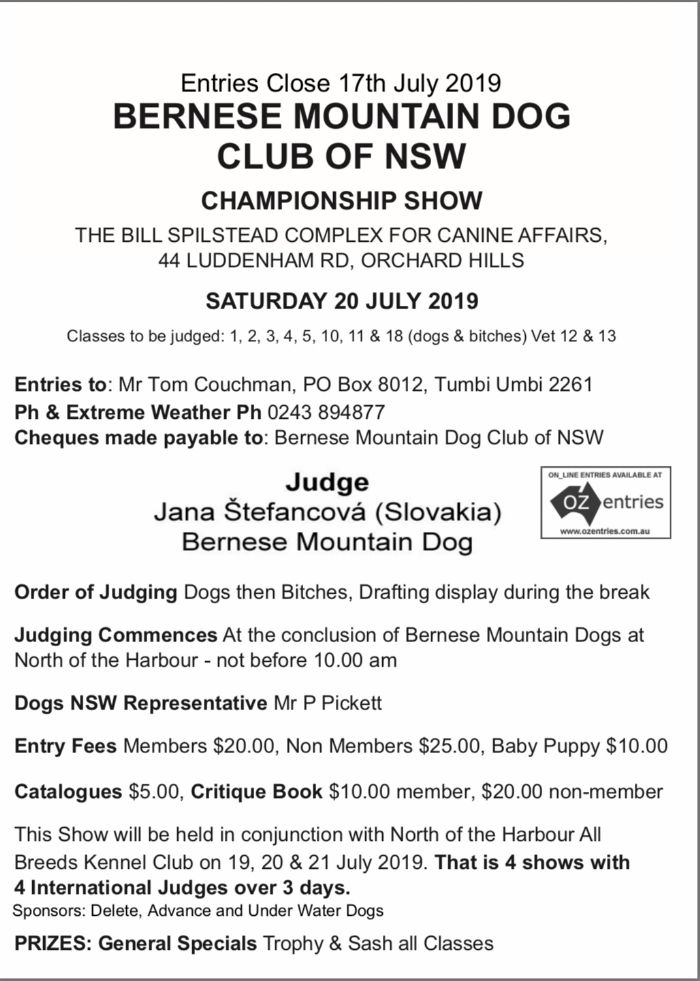 Saturday 12 January 2019 - Bunnings Sausage Sizzle Fundraiser
The club will be running the BBQ at Bunnings McGraths Hill on Saturday 12 January between 8 am and 4pm
Further details on the Activities page and FB page
Show Entries
The closing date for entries to our Championship Show on 21 July 2018 has been extended to Friday 13th July!
Fundraising Raffle 3:
Raffle three is the chance to win one of FIVE $100 Gift Vouchers from Pet Resorts Australia.
Pet Resorts Australia have facilities at Dural in North West Sydney and at Terrigal on the Central Coast offering excellentcare and training services
Tickets are $5 each or 3 for $10 and are available by sending an email to [email protected] or FB message to the club FB page.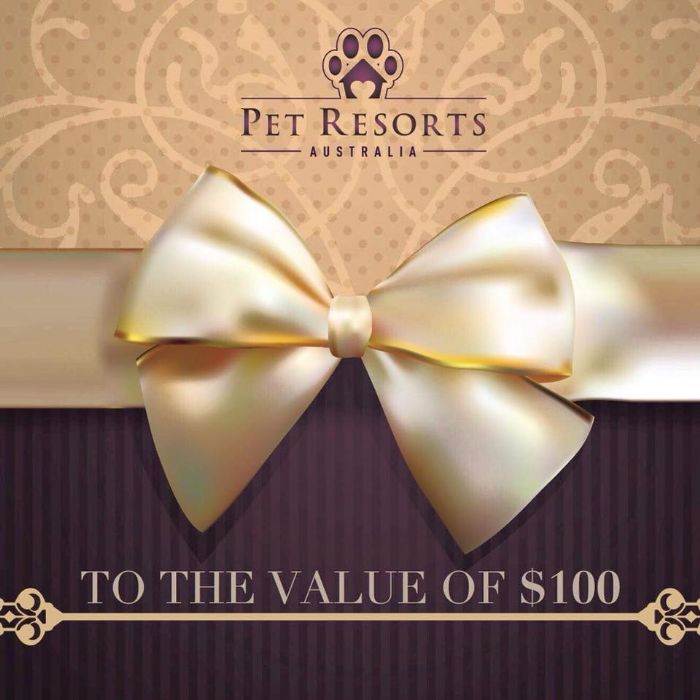 Fundraising Raffle 2:
Raffle 2 is now under way and the prize is a Meriton Suites Gift Voucher for overnight accomodation in a 1 bedroom suite at any Meriton Suites location (Sydney, Brisbane or the Gold Coast) valued at $350!
Tickets are available from by sending an email to [email protected] with your request or by sending a Face Book message through the Club page or directly from a committee member.
Tickets are $5 each or 3 for $10
Raffle will be drawn on 31 March 2018.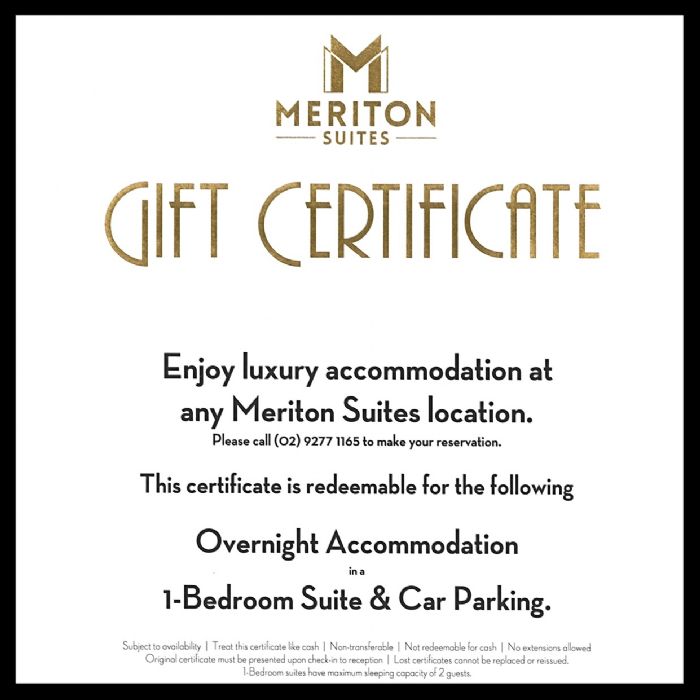 General Meeting and BBQ
Sat 10 February 2018
Details in the Social Activities page
Fundraising Raffle 1:
Tickets are available from committee members or by sending an email to [email protected]
The raffle prize is tickets for two people to the Ensemble Theatre in Kirribilli for dinner and show valued at $260
Tickets are $5 each or 3 for $10
Raffle will be drawn on 28 February 2018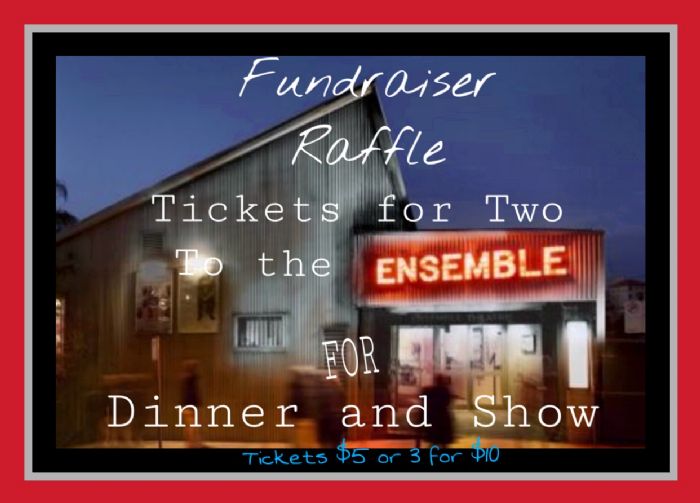 1 December 2017: Welcome to the Bernese Mountain Dog Club of New South Wales website!
Although very basic at this point more details and information will be added as we develop the page. The contact and membership information is live on the site.
Facebook pages have also been set up. There is a club information page with a linked group page and a members only discussion group page.
Club Page:
https://www.facebook.com/bmdcnsw/
Club Group Page:
https://www.facebook.com/groups/297396494099932/?source_id=483281322017415
Members Discussion Group Page:
https://www.facebook.com/groups/126540744624001/